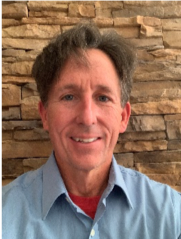 experience
Mike Vonesh is an Enterprise Innovation Leader at W.L. Gore and Associates (Gore), a material sciences company widely known as the manufacturer of Gore-Tex® waterproof, breathable fabrics. His background and education are in Biomedical Engineering (B.S. and Ph.D; MSEE in Electrical Engineering). His professional engineer license is in mechanical engineering. Prior to his current Enterprise Innovation leadership role, he spent 20 years in Gore's Medical Products Division conceptualizing, developing, and commercializing implantable medical devices for the treatment of cardiovascular disease.
What are a few of the projects you have developed or are currently working on to help fight the COVID-19 pandemic?
At Gore, we've donated our time, tools, and talents to provide solutions for the personal protective equipment (PPE) shortfall created by the COVID-19 pandemic by leveraging our advanced material science expertise, prototyping, and production capabilities. Our efforts have been focused on delivering PPE to healthcare workers in COVID-19 hotspots so that they can safely treat patients who have contracted the coronavirus. In partnership with companies and healthcare delivery providers across the country, we've provided much-needed PPE solutions to frontline workers, including N95 respirators, face shields, protective gowns, universal filter cartridges that can be used in respirators, powered air-purifying respirators, and ventilators to provide N95 level protection. In total, we have provided fabric used in nearly 50,000 reusable protective garments and advanced filtration materials to fabricate nearly to 1.5 million respirators. Underpinning the development of these solutions, we have also undertaken foundational research to better understand the performance of our respirator filtration materials following repeated sterilization cycles and have explored novel antiviral agents.
How is the work you are doing impacting communities in the United States and all over the world?
We have taken a collaborative approach to develop PPE solutions. This approach has brought together an eclectic group of industrial and academic collaborators committed to a shared purpose—improving lives affected by the coronavirus. These efforts have beneficially impacted doctors, nurses, and allied healthcare providers in some of the regions hardest hit by the COVID-19 outbreak, including New York City, Boston, and the Philadelphia metro area. In Arizona, where I reside, Gore has donated PPE solutions to frontline workers at Flagstaff Medical Center, Verde Valley Medical Center, Barrows Neurological Institute, Banner Health, and the Tuba City Regional Healthcare institute, which serves the Navajo Nation.
Our efforts have enabled healthcare workers to treat patients with the confidence that they have advanced protection against the virus. This improves their ability to perform their job and to help patients to receive the care they require. In addition, our efforts have contributed to establishing a robust supply chain in support of our PPE solutions. We are confident that we will be able to sustain our contribution over time by predictably delivering quality, domestically sourced, high-performance materials.
How has having your P.E. license impacted your career?
Attaining a P.E. license provided immediate credibility as to my engineering skillset to both my employer and the clinician-customers with whom I collaborate. Credibility, and the establishment of a successful track record of performance, provided me access to important opportunities to apply my skills. These opportunities were often at the vanguard of pushing new concepts and innovations. On a personal level, the P.E. license gave me a certain confidence to embrace challenges that were fraught with uncertainty. Ultimately, the opportunities and experiences afforded by the P.E. license enabled me to develop as a leader of other engineering practitioners.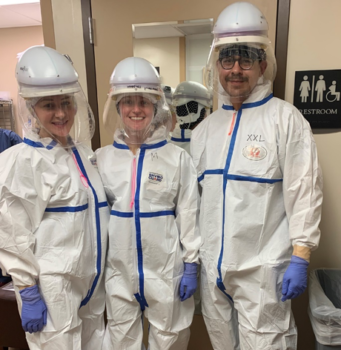 What are the biggest areas of need you will look to impact and create products for moving forward during this pandemic? What are some of the biggest challenges you face?
Unfortunately, the COVID-19 pandemic is not over. In fact, many are resigned to the inevitability of a new normal, in which PPE is integrated into all facets of our daily life. As we move forward, some of the immediate challenges we are likely to encounter involve creating the reliable supply chains required to address the overwhelming needs for PPE by healthcare workers. These challenges will be exacerbated by demands for PPE from industrial/workplace safety and personal-use consumers. The supply of PPE will ultimately match demand. With the global uptake of PPE, however, sustainability considerations related to the impact of PPE on storage facilities, transportation, landfills, and waste processing have the potential to become problematic. Development of PPE solutions that address these challenges (reusability, recycle-ability, biodegradability, etc.) will be key technical drivers. Looking further, it is likely that advanced technologies (antiviral, biosensors, smart respirators, new materials, etc.) will be incorporated to improve the efficacy and aesthetics of future PPE offerings. As always, engineers will be at the vanguard of addressing these issues as they arise.
Why was it important for you to get your P.E. license?
Obtaining the P.E. license was a logical choice for me to achieve my career aspirations. I desired to make a difference in the lives of people in need. As an engineer involved with the design, development, and commercialization of medical devices, I felt that licensure validated my credentials to make decisions that impact the safety and welfare of human beings. Although Biomedical Engineering does not currently have a BME-specific licensure exam, the principles involved with obtaining licensure—integrity, competence, dedication—were very compatible with enabling my career objectives as professional engineer.
Why are engineers and the field of engineering in general so important when it comes to helping the world deal with complex issues such as COVID-19?
Engineers have always played a central role in developing technical solutions for complex problems. The complexities presented by the COVID-19 pandemic are no different. The development of PPE solutions, for example, requires understanding inputs from multiple fields of specialization and the ability to collaboratively leverage a team-based approach of problem solving. Engineers are uniquely suited to integrate and apply knowledge from diverse fields to innovate novel solutions. Team-based problem solving and the ability to execute under time constraints are typical expectations associated with the practice of engineering today. For these reasons, it is not surprising that engineers have made, and will continue to make, significant contributions to resolving complex problems like those arising due to the coronavirus pandemic.